If you ever wish to know what cutting-edge theater looks like in Europe, take a peek at this magnificent company - Stage and Cinema 
TRAP DOOR THEATRE PRESENTS
The Resistible Rise of Arturo Ui
Written by:   Bertolt Brecht
Translated by: George Tabori and Alistair Beaton
Directed by:  Victor Quezada-Perez
(Click link above)
                                                                              Now Extentended!
Due to popular demand "Arturo Ui" is extended ONE WEEK! Now closing, Saturday April 29!  
We are proud to announce "The Resistible Rise of Arturo Ui" has received three Jeff Nominations for "Best Ensemble", "Best Costume Design" and " Best Director"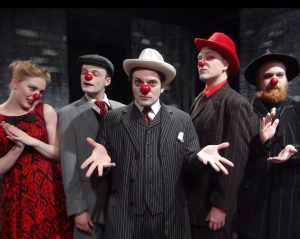 Join us this week for the last three performances.
Check Video Trailer by clicking here:
(…) this Trap Door production is visually and aurally stunning…
Highly Recommended!  Dmitry Samarov, The Chicago Reader
Trap Door Theatre's current staging of "The Resistible Rise of Arturo Ui" might be the timeliest show in town…
 Highly Recommended!    Kerry Reid, The Chicago Tribune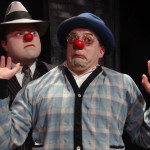 It's history that doesn't need to be repeated to become farcical.
Highly Recommended!
  Alex Huntsberger,
Time Out Chicago
The Trap Door production is smart, crazily entertaining and thought-provoking.
Highly Recommended!  Nancy Bishop, Third Coast Review
(…)

 under the direction of Victor Quezada-Perez, Trap Door Theatre gives it an outstanding production. 
 Highly Recommended!  Jacob Davis, Around the Town Chicago
Fans of Trap Door,  may find this production in line with their previous offerings: it is sophisticated, and it is quirky.
August Lysy, Chicago Critic
As usual with Trap Door, the cast is a tight ensemble.
 Recommended!   Jay Van Ort, New City
Written in 1941, Bertolt Brecht's compelling parable The Resistible Rise of Arturo Ui is a savage satire of social and political corruption- a political show written during WWII to denounce Hitler's rise told within a gangster parable that takes place in
Chicago in the 1930's.
Cast:
 Crew: 
Assistant Director: Pauline Pahl
Set Designer: Stefan Roseen
Assistant Stage Manager: Cami Codel
Opens: Thursday, March 16 at 8:00 PM
Closes: Saturday, April 22 at 8:00 PM
Runs: Thursdays, Fridays, Saturdays at 8:00 PM
$20-Thursdays
 $20- on Fridays
$25-Saturdays
Victor Quezada-Perez (Director)—is the founder and artistic director of the theatre company Cie Umbral located in Paris, France. Cie Umbral, meaning "threshold" or "dawn" in Spanish, began in 1998 with the goal to bring together and promote the work of artists through circus and clowning. As is characteristic of the company, every production embraces the physical gesture and practice of European Clowning technique. He has received critical acclaim for all of his directorial work shown over the years at the prestigious Avignon festival, most recently in 2010 for his staging of Matei Visniec's Old Clown Wanted. His focus on contemporary literature has lead to working with such living writers as Visniec, Jose Triana, Pierre Notte and Luis Sepulveda, and his invention of "la mise en clown" style of theatre.
Quezada-Perez's commitment to ensemble creation, a skill pertinent to the craft of clowning, is also seen is his active participation as a company performer. In addition to directing most of their work, he has performed in fifteen productions, as well as other various projects throughout France. An accomplished musician, his company regularly integrates music into their productions. Quezada-Perez has a Master's Degree in History and Political Science and is a classically trained pianist. His first collaboration with Trap Door Theatre took place in 2012 when he staged as guest director Max Frisch's The Arsonists; he also worked with some members from the Trap's ensemble while they were touring France in 2014. The son of Chilean exiles, he has deep understanding of governmental violations of citizens' rights and a need for rebellion.
Bertolt Brecht (Playwright) —born in 1898 Brecht was a German poet, playwright and theatrical reformer who used plays as social and ideological forum.  Until he was 25 he lived in Bavaria, studied medicine and served in an army hospital and wrote there his first play Baal (1923).  He moved to Berlin in 1924 where he worked briefly for the directors Max Reinhardt and Erwin Piscator.  With the composer Kurt Weill he wrote the satirical The Threepenny Opera (1928) after John Gay's The Beggar's Opera. In 1933, his books were burned and his citizenship was withdrawn by the Nazis and he was exiled from Germany.   Between 1937 and 1948, while in exile, he writes his best plays (Mother Courage and Her Children, The Life of Galileo, The Good Woman of Setzuan, The Resistible Rise of Arturo Ui and The Caucasian Chalk Circle) and his most important theoretical work, A Short Organum for the Theatre. His concept of the Epic theatre and drama is based on detachment which reminds the spectator that what is being presented is a demonstration of human behavior, not an illusion of reality. In 1949 Brecht returned to East Berlin where he founded his famous company, the Berliner Ensemble. He died there in 1956.
HELP US MEET THE CHALLENGE!
The Trap Door Theatre is honored to be a recipient of a challenge grant from the
In an effort to help us expand our yearly fundraising goals, the Reva and David Logan Foundation has challenged Trap Door to raise $15,000 by May of 2017. If we are successful, they will match it dollar for dollar, making our total award $30,000.
This is a very prestigious award and we look forward to showing the strength of our community support.
If you've been waiting for the right time to make your tax-deductible donation to Trap Door, this is it!
OR
 make your check payable to Trap Door Productions and send to: Trap Door Theatre / 1655 W Cortland / Chicago IL 60622.
THANK YOU FOR ALL YOUR SUPPORT

Don't miss a moment of another incredible year with Trap Door Theatre!
Join us for our 23rd Season and become a subscriber!
Subscribers now get priority seating!!
Trap Door Theatre is once again offering our popular discounted multi-show pass! Use these passes in any combination for any Trap Door Theatre production with advance reservation.
Super Subscriber pass includes… * Tickets to 8 Trap Door Shows * Complimentary glass of beer or wine when you attend * Exclusive invitation to selected rehearsals! * Priority Seating for all of the shows
Passes never expire. Passes can be used in any combination anytime for any Trap Door Theatre production. Rentals, tours, or touring companies excluded. Seating is limited — please call ahead to the box office to make advance reservations when using your pass.
---
Donate towards our European Tour!
Support our "Rock it to Romania"  Fundraising Campaign!
By clicking on Donate Now link bellow you help us take this wonderful show to Europe!
Or you can send a Check to:
Trap Door Theatre 1655 West Cortland Ave. Chicago, IL 60622 773-384-0494
*(Scroll down for details about The Tour and ways you can help)
---
 How to Explain The History of Communism to Mental Patients
(REHEARSAL PROCESS) -Video by David Holcombe
Trap Door continues its long held tradition of presenting mature, challenging political theatre for discerning audiences.
TimeOut Chicago, Dan Jakes
---
European Tour 2017
The Trap Door Theatre is embarking on their 5th Annual Tour to Romania and Hungary and we need your help to get us there!
Trap Door Theatre's production of How to Explain the History of Communism to Mental Patients directed by Hungarian guest director Zoltan Balazs has been invited to play at The Maladype Theatre in Budapest, Hungary and several cities in Romania including the prestigious International Theatre Festival of Sibiu.
The Trap Door ensemble has officially launched their Rock it to Romania fundraising campaign for 10 ensemble members to go overseas and experience Eastern-European culture first hand! Accommodations, transportation between cities, and per diem have been accounted for while in Hungary and Romania for a month. Trap Door is only responsible for providing airfare for 10 company members to go overseas. Therefore we need your help to get us there!
There are many ways you can help

!
-Send us a check. All contributions are tax deductible.
-Donate online. Click link below
-Donate $25 in the lobby after the show and receive a postcard from Europe signed by the Trap Door team.
-Buy Raffle tickets at the show.
-Attend our upcoming benefit in June.
-Help Promote our tour on Facebook
-Get your friends to donate.
-Attend our show in Romania
The Trap Door ensemble needs to raise at least a minimum of $10,000 towards airfare for 10 artists. Words cannot express the appreciation our company has for any amount of support you can give to this cause. We are a 501©3 not-for-profit company and any contribution you give is tax deductible.
Thank you so much for your time and consideration of our request.
---
Can't make it to the show but want to support the theatre anyway? Leave your legacy behind! With your donation of $100, your name will be engraved on the seat of your choice at the Trap Door Theatre and reserved for you when you attend a show!
Donations can be mailed to:
Trap Door Theatre
1655 West Cortland Ave.
Chicago, IL 60622
Recognizes Trap Door as one of the best storefront theatres in the city!
---
Trap Door Productions presents its first
Documentary Film!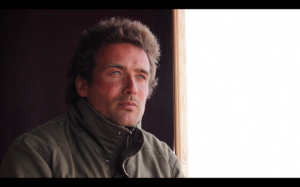 The House of Gods Trailer 1 from David A Holcombe on Vimeo.
---