If you ever wish to know what cutting-edge theater looks like in Europe, take a peek at this magnificent company - Stage and Cinema 
TRAP DOOR THEATRE PRESENTS
Into the Empty Sky
Written by: 
Wislawa Szymborska
(Based on the poetry collection, MAP)
Translated by:
Clare Cavanagh & Stanislaw Baranczak
Devised and directed by:
Monica Payne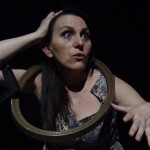 Cast: Maryam Abdi, Tiffany Addison, Marzena Bukowska, Rashida Curtis, Halie Ecker, Mike Mazzocca, Kelsey Shipley
Opens: Thursday May 11,  8PM
Closes: Saturday June 17
Runs:  Thursdays, Fridays, Saturdays at 8PM
Admission: $20 on Thursdays, Fridays, $25 on Saturdays, 2 for 1 Admission on Fridays
(Click link above)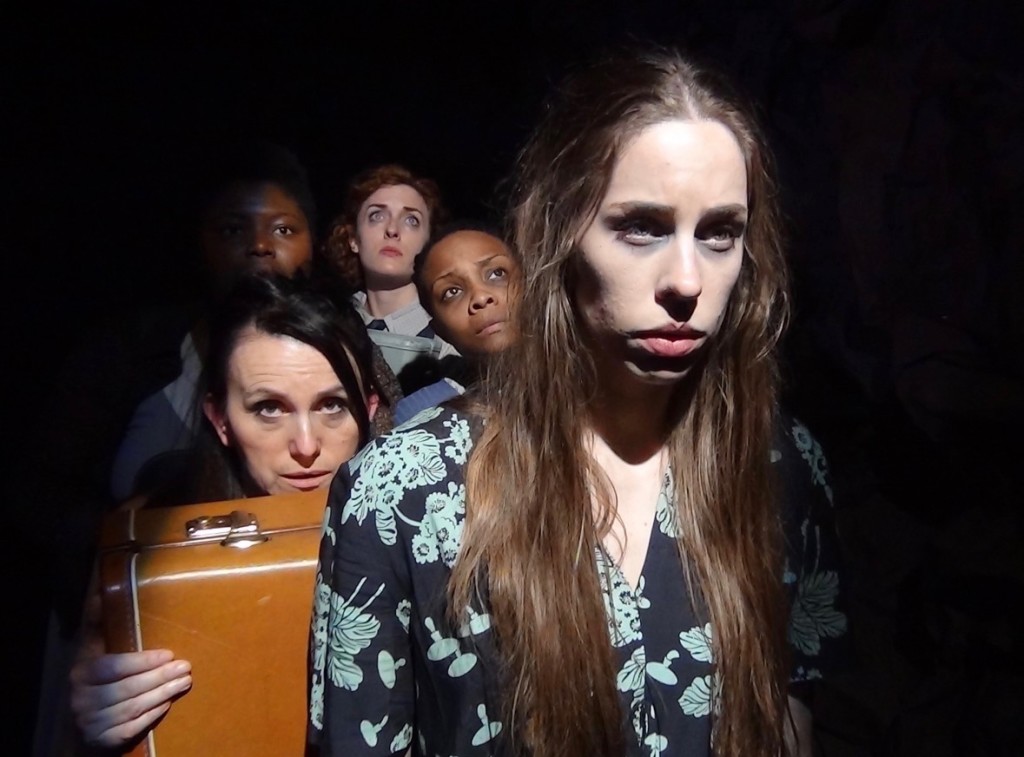 Into the Empty Sky" offers an oddly reassuring road map for negotiating that terrain in uncertain and perhaps-terrifying times.
Recommended. 
Kerry Reid, 
The Chicago Tribune
 Everything about the show's design…puts the viewer in a contemplative mood.
Highly Recommended. Jacob Davis, Around the Town
Nevertheless, even a novice poet like myself could recognize and appreciate the beauty of Into the Empty Sky.
Recommended. August Lysy, Chicago Critic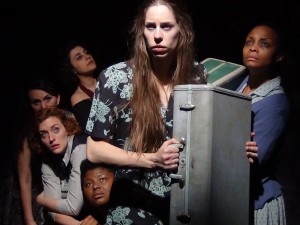 (…) 

this show casts a spell which lingers long after one leaves that bare, woebegone room. 



Recommended. 
Dmitry Samarov, 
The Chicago Reader
 

But the most successful moments of the show are those of aggressive, spectacular hope that Symborska's poetry suggests(…)
Recommended. Jan Van Ort, New City
Into the Empty Sky, devised and directed by Monica Payne, draws from a selection of Wislawa Szymborska's poems as the catalyst for this new work. Szymborska, a beloved Polish poet and Nobel laureate, tended to view her subjects, both large and small, from an unusual, pragmatic, and wry perspective. Into the Empty Sky features six women trapped in a purgatorial landscape; unsure of their surroundings, haunted by the past, and trying desperately to escape.
 Into the Empty Sky, inspired by the collection of works by Polish poet Wislawa Szymborska and directed by Monica Payne.  Into the Empty Sky explores the strength it takes to flee catastrophe, the haunting nature of memory, and the (im)possibility of making it out alive.
 Wislawa Szymborska (Playwright) was born July 2nd, 1923 in Kornik, Poznan province.Between 1945 and 1948 she studied Polish, Literature, and Sociology at the Jagiellonian University in Krakow. She made her debut in March 1945 with the poem Looking for Words published in a supplement to the daily newspaper "Dziennik Polski". From 1953 to 1981 she worked on the Krakow-based weekly magazine "Zycie Literackie", where she ran the poetry column and the book review column "Lektury nadobowiazkowe" (later resumed as "Gazeta o Ksiazkach" in the supplement to Gazeta Wyborcza). Szymborska published 13 collections of poetry that has been translated into over forty languages. She also translated poetry herself, mainly from French and German. In 1991 she received the Goethe Prize. In 1995 she won the Herder Prize, and in May of that same year, she was awarded the honorary degree honoris causa by Adam Mickiewicz University in Poznan?. In 1996, Wislawa Szymborska received the Polish PEN Club award and the Nobel Prize for Literature. In 2001 she became an honorary member of the American Academy of Arts and Letters, and in 2011 she was awarded the highest Polishnationaldecoration, the Order of the White Eagle. Wislawa Szymborska died on February 1st, 2012 in Krakow.
Monica Payne (Director) is a freelance director who last worked with Trap Door in the spring of 2016, staging a reading of the award-winning Polish play Trash Story by Magda Fertacz, for the International Voices Project. She directed full productions of the same play in New York (Kulture+ Productions) and Los Angeles (UCLA TFT) and has travelled to Krakow twice through the Adam Mickiewicz Institute to study Polish theatre. Payne has also directed at UCLA, The Pittsburgh Playhouse, Theatre Lumina (LA), Point Park University, and The Artistic Home. As an assistant director, she has worked at Steppenwolf, The Goodman Theatre, Theatre Y, The Latino Theatre Company, and La Mirada Center for the Performing Arts. As a former actress, Payne has worked with Steppenwolf, The Artistic Home, The Hypocrites, The Journeymen, and Famous Door, among others. Payne has taught for several universities, including UCLA, Carnegie Mellon, and Point Park University. She has been a Meisner teacher for 16 years and has taught for The School at Steppenwolf, The Artistic Home, The Audition Studio, Steppenwolf Classes West, and independently. She earned her M.F.A. in Directing from the UCLA School of Theater, Film and Television and is a member of both the NY and LA Directors' Labs. www.monicapaynedirector. com.
Crew: Set Designer: Eleanor Kahn/ Lighting Design: Richard Norwood/ Costume Design: Rachel Sypniewski/ Sound Design/Composer: Mike Mazzocca /Make-Up Design: Zsofia Otvos/Graphic Design: Michal Janicki/Dramaturg: Milan Pribisic/Stage Manager: Kristin Davis
HELP US MEET THE CHALLENGE!
The Trap Door Theatre is honored to be a recipient of a challenge grant from the
In an effort to help us expand our yearly fundraising goals, the Reva and David Logan Foundation has challenged Trap Door to raise $15,000 by May of 2017. If we are successful, they will match it dollar for dollar, making our total award $30,000.
This is a very prestigious award and we look forward to showing the strength of our community support.
If you've been waiting for the right time to make your tax-deductible donation to Trap Door, this is it!
OR
 make your check payable to Trap Door Productions and send to: Trap Door Theatre / 1655 W Cortland / Chicago IL 60622.
THANK YOU FOR ALL YOUR SUPPORT

Don't miss a moment of another incredible year with Trap Door Theatre!
Join us for our 23rd Season and become a subscriber!
Subscribers now get priority seating!!
Trap Door Theatre is once again offering our popular discounted multi-show pass! Use these passes in any combination for any Trap Door Theatre production with advance reservation.
Super Subscriber pass includes… * Tickets to 8 Trap Door Shows * Complimentary glass of beer or wine when you attend * Exclusive invitation to selected rehearsals! * Priority Seating for all of the shows
Passes never expire. Passes can be used in any combination anytime for any Trap Door Theatre production. Rentals, tours, or touring companies excluded. Seating is limited — please call ahead to the box office to make advance reservations when using your pass.
---
Donate towards our European Tour!
Support our "Rock it to Romania"  Fundraising Campaign!
By clicking on Donate Now link bellow you help us take this wonderful show to Europe!
Or you can send a Check to:
Trap Door Theatre 1655 West Cortland Ave. Chicago, IL 60622 773-384-0494
*(Scroll down for details about The Tour and ways you can help)
---
 How to Explain The History of Communism to Mental Patients
(REHEARSAL PROCESS) -Video by David Holcombe
Trap Door continues its long held tradition of presenting mature, challenging political theatre for discerning audiences.
TimeOut Chicago, Dan Jakes
---
European Tour 2017
The Trap Door Theatre is embarking on their 5th Annual Tour to Romania and Hungary and we need your help to get us there!
Trap Door Theatre's production of How to Explain the History of Communism to Mental Patients directed by Hungarian guest director Zoltan Balazs has been invited to play at The Maladype Theatre in Budapest, Hungary and several cities in Romania including the prestigious International Theatre Festival of Sibiu.
The Trap Door ensemble has officially launched their Rock it to Romania fundraising campaign for 10 ensemble members to go overseas and experience Eastern-European culture first hand! Accommodations, transportation between cities, and per diem have been accounted for while in Hungary and Romania for a month. Trap Door is only responsible for providing airfare for 10 company members to go overseas. Therefore we need your help to get us there!
There are many ways you can help

!
-Send us a check. All contributions are tax deductible.
-Donate online. Click link below
-Donate $25 in the lobby after the show and receive a postcard from Europe signed by the Trap Door team.
-Buy Raffle tickets at the show.
-Attend our upcoming benefit in June.
-Help Promote our tour on Facebook
-Get your friends to donate.
-Attend our show in Romania
The Trap Door ensemble needs to raise at least a minimum of $10,000 towards airfare for 10 artists. Words cannot express the appreciation our company has for any amount of support you can give to this cause. We are a 501©3 not-for-profit company and any contribution you give is tax deductible.
Thank you so much for your time and consideration of our request.
---
Can't make it to the show but want to support the theatre anyway? Leave your legacy behind! With your donation of $100, your name will be engraved on the seat of your choice at the Trap Door Theatre and reserved for you when you attend a show!
Donations can be mailed to:
Trap Door Theatre
1655 West Cortland Ave.
Chicago, IL 60622
Recognizes Trap Door as one of the best storefront theatres in the city!
---
Trap Door Productions presents its first
Documentary Film!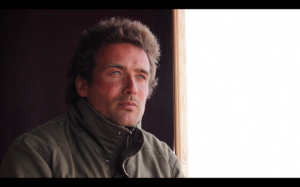 The House of Gods Trailer 1 from David A Holcombe on Vimeo.
---